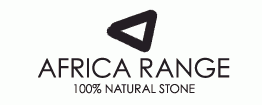 Born of a concept to bring to light an exotic & unique range of materials that lay dormant under the untouched desert sands of Namibia, the Africa Range ® was unearthed more than 2 decades ago
From granites, to marbles, to natural quartzites and alabasters, the Africa Range Group of companies has progressively consolidated its position in the forefront of supplying natural stone choices to its local and international clientele.
Rich, warm & subtle, or bold, majestic and prestigious materials that all carry the "100% natural" status. Our impressive portfolio continues to grow with each new quarrying location discovery.